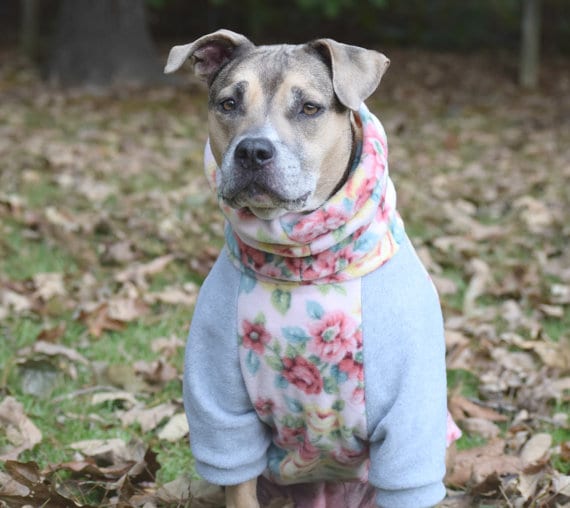 This article is the first part of a Tooth & Honey Original Perspective Series.  Part 2 will be released next week.
I got married when I was 18, when my boyfriend was home on Christmas leave from military training, and we decided our future together was going to be all or nothing.  We had a small wedding, and I was eager to leave home and start our life together, but I was more excited to finally do something we had always talked about: rescue a dog to give it the perfect life.
Our first duty station was Fort Bliss, Texas, where we found an off-post apartment that would allow dogs.  Not wasting any time, we promptly visited one of the animal shelters in the dry heat of El Paso, just "to look."  The shelter was packed and chaotic, but through all the barking, dust, and glaring sun, there was one frumpy-looking brown pit bull that connected with me the moment I saw her.
Meeting Bela—or…Zandra
Instead of barking and jumping, she silently stood in her pen, as if knowing the destiny that would unfold; just waiting for what is already determined to happen.  I felt mesmerized by her honey-colored eyes that captivated me as I gravitated toward her. In a haze of highly energetic dogs swirling around her, she remained composed despite the new humans approaching her.  It was like she had a ticket, and she was patiently aware that her number was about to be called, thinking, "it's my turn now…my person is here. No need to get all excited."
The tops of her paws were bloody, which the volunteers said was from trying to dig under the fence, a stigmatic indicator that she was active at least sometimes.  I remember calling her "Honey," a lot, as she sweetly allowed me to place the rope leash around her neck. Suddenly, it became evident that she had never been on a leash before, as she body slammed the ground and flailed around like a fish out of water, not negotiating the sensation of this thing around her neck.  Although concerned, I knew that she would trust me and calm down per the unspoken agreement we had to be patient. She quickly re-gained her composure and walked gingerly on a leash like the episode never occurred.
Bela's Unknown History
Her given name was Zandra.  The volunteers told us that someone left her behind when they moved away and didn't want to take her with them.  They said she must have been teased with food because she barks at her bowl when she eats and that turns a lot of people off from adopting her.   They said she doesn't engage with potential adopters when they come to the shelter because she doesn't get wound up with excitement. No one is sure how old she was either.  Well, although we only went to the shelter to look, I knew this dog was ours, even if my husband didn't know it yet. She was cut from a different cloth and marginalized for not fitting into people's ideas of what normal is.  She was everything that I suspected when I saw her, and we needed each other.
Bringing Bela Home
Because my husband insisted that we were only looking, we didn't take her home that day. I couldn't sleep that night because I stayed up crying, thinking about this sweet girl on a concrete slab with no escape from the heat and noise.  I thought about her instead cuddling with me in my bed, exerting her therapeutic serenity. I thought about how I would give her a life that she would never need to worry about being left behind, and never need to be convinced that she's worth a home.  She would never be able to forget that she is loved and needed. I knew I had to adopt her and give her everything she deserved, and my heart would feel empty until it happened.
The next day, I heard the door open to our apartment with this panting, heaving, excited sausage roll of energy.  My husband—saying he got called into work— actually went to the shelter and adopted our girl, and brought her home to our first place together (the first of six so far). We named her Bela, because she has a widow's peak marking that looks like Count Dracula played by Bela Lugosi.  Bela has taught me what it means to accept yourself, and to be patient with those who don't understand you. She taught me that you don't always need to justify other people's judgment with a reply, and that our perceptions of ourselves are more important than anyone else.
This is the first part of a multi-part series.  Click Here for Part 2